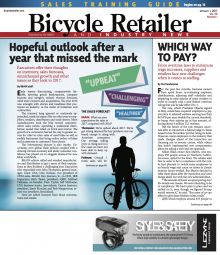 Issue Highlights:
Industry 'upbeat' for 2017 after a tough year
Executives share thoughts in new BRAIN issue

LAGUNA HILLS, Calif. (BRAIN) — After a year in which the industry struggled with over-inventory and a rapidly changing distribution system, many supplier executives said they were cautiously optimistic about their prospects in 2017.
BRAIN editors surveyed leaders at Giant, SRAM, J&B, QBP, Pure Cycles, Specialized, Jamis and Specialized for a feature in the Jan. 1 issue of Bicycle Retailer, which is arriving in subscriber mailboxes this week.
While all suppliers said that inventory levels are much improved compared to a year ago, there remains some uncertainty about consumer demand for bicycles and about how to adapt to changing consumer buying habits.
Also in the new BRAIN issue, Val Vanderpool takes a look at how retailers and suppliers are adapting to changing minimum wage and overtime rules, which are coming at them at a local, state and federal level.
The new issue also contains our annual Sales Training Guide and was mailed with the 2017 BRAIN Industry Directory. The issue contains a look back at the biggest stories of 2016, a report from the recent e-bike summit, an on-going patent dispute over saddle design and another legal dispute between SRAM and Fox Factory, which has already cost millions in legal fees.
These highlights are in addition to regular BRAIN departments like State of Retail, Global Briefs, Mad Dog Unleashed, Tech Briefs and Through the Grapevine that are only published in the magazine.