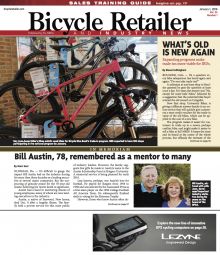 Issue Highlights:
LAGUNA HILLS, Calif. (BRAIN) — Long-time industry leader Bill Austin is being remembered for his tireless work for the improvement of the IBD industry, as well as his mentorship to many across the industry and leadership at some of the industry's most storied brands.
Austin, who died last month after a long illness, is featured in the latest issue of Bicycle Retailer & Industry News, which is arriving in mailboxes across the country this week.
During his long career Austin held leadership roles at Schwinn, Giant USA and Raleigh Bicycles, while also spearheading industry efforts including the Bicycle Product Supplier Association's industry statistics program.
Besides the Austin tribute, the Jan. 1 issue of BRAIN contains our annual Sales Training Guide, a sponsored 32-page section with retail sales tips and information on a variety of product categories, from chains to car racks to coffee. The guide was compiled by BRAIN editors in consultation with major suppliers to give staff and managers information they need to increase sales in each category.
The Jan. 1 issue also includes a look at the used bike market, which appears to be heating up for 2016. At least two established companies — The Pro's Closet and Bicycle Blue Book — are launching nationwide used bike trade-in programs, allowing IBD customers to trade in their used bike for store credit, with the old bike being sold though the Internet. Meanwhile, an industry veteran in Pennsylvania is getting ready to launch a chain of used bike stores, served by a regional warehouse where old bikes are refurbished.
Also in the new issue, we take a look at QBP's decision to close its Utah warehouse in favor of a new distribution center in Denver.
This is in addition to regular departments like LifeCycle, State of Retail, Global Briefs, Mad Dog Unleashed, Trade Watch, Tech Briefs and Through the Grapevine that are only published in the magazine.
Bicycle Retailer & Industry News is published 18 times a year and is available in print or digital format. Visit our subscription page for more information.