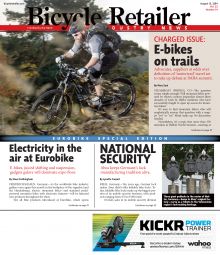 Issue Highlights:
LAGUNA HILLS, Calif. (BRAIN) — Do electric mountain bikes belong on the trails? As IMBA plans to discuss the question at next week's World Summit in Steamboat Springs, Colorado, the August 15 issue of Bicycle Retailer & Industry News takes a look:
A few suppliers are selling e-powered mountain bikes now, most major suppliers are selling them in Europe, and most plan to sell them in the U.S. soon no matter what IMBA's policy may be now or in the future.
On the other hand, it's fair to say that industry officials desperately want to avoid a run-in with IMBA. Instead, they say that cooperation, education and experience will mitigate many of the is- sues IMBA's executives and its army of volunteers have raised.

Mike Van Abel, IMBA's president and executive director in the U.S., was reluctant to include the topic at this year's biennial World Summit, but concluded that IMBA needed to get in front of potential conflicts now rather than later.

"We're crystal clear that mountain biking is human powered," Van Abel said.  
Other topics in the August 15 issue:
A preview of this month's Eurobike show, where the industry gets one of its first looks at 2015 offerings, and European market trends that may or may not be headed to the U.S.
A remembrance of framebuilder Tom Teesdale, who passed away while riding RAGBRAI this summer. 
A visit to Continental's tire factory in Germany. BRAIN editor Lynette Carpiet reports that while Conti has recently built its own tire factory in China, the company is also expanding production at its German factory.
A look at Austrian brand KTM's plans to enter the U.S. market. KTM, which also sells motorcycles, says it sees potential in the U.S. market, expecially for its electric bikes.
Trade Watch looks at the U.S.'s bike exports over the last three years.
The State of Retail column queries top U.S. store owners about their road bike sales so far this season.