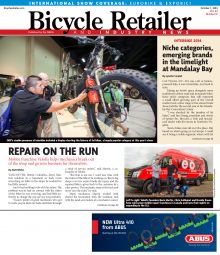 Issue Highlights:
LAGUNA HILLS, Calif. (BRAIN) — The October 1 issue ofBicycle Retailer & Industry News features an article on VeloFix, a new franchised mobile bike repair business. The Canadian-based company is offering turn-key franchises, marketing primarily to shop mechanics who want to go out on their own. 
Those interested in starting a VeloFix operation pay a $25,000 franchise fee and then about $40,000 to build out a special Sprinter van with tooling. The van is wrapped in VeloFix logos. 
VeloFix is also being featured on Dragon's Den, Canada's version of the Shark Tank TV series. A segment on the company will run in late November. 
Besides the VeloFix feature, the newest issue of BRAIN includes full coverage of theInterbike expo, as well as Germany's EuroBike and Italy's ExpoBici trade shows. 
Other articles in the new issue:
A look at Greg LeMond's newest bike model— and his consumer direct business model

A tribute to Bill Quinn, the former publisher of Bicycle Business Journal, who died at age 102 last month.

A tribute to Giovanni Pinarello, the founder of the Pinarello bike brand, who died in September at age 92.
A look at Sinclair Imports, which is winding down its distribution business to focus on the Argon 18 bike line

A feature on Intense Bicycles and the company's decision to re-hire 1990s star Shaun Palmer.

The Grapevine, Mad Dog Unleashed, staff and guest editorials and Shop Talk — Patrick O'Grady's bike-shop based cartoon strip