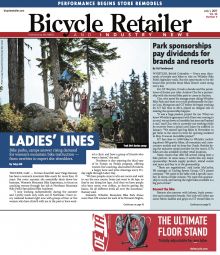 Issue Highlights:
LAGUNA HILLS, Calif. (BRAIN) — The July 1 issue of Bicycle Retailer & Industry News includes a package of stories on bike parks. 
The issue includes articles on how bike parks and camps answer rising demand for women's mountain bike instruction, how park sponsorships pay dividends for brands and resorts, and how IMBA is looking to "new school" mountain bike parks, often in urban areas, as critical on-ramps to the sport.
The issue also includes an article on how Performance is focusing on community with remodels across its stores.
These highlights are in addition to regular BRAIN departments like State of Retail, Mad Dog Unleashed, Retail Briefs and Through the Grapevine that are only published in the magazine.
BRAIN is published 18 times a year. Mail and electronic subscriptions are available at bicycleretailer.com/subscribe.