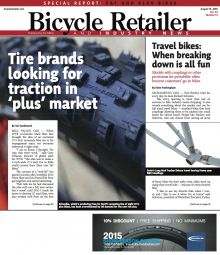 Issue Highlights:
LAGUNA HILLS, Calif. (BRAIN) — The newest Bicycle Retailer & Industry News edition contains a special report on the growing market for fat- and plus-sized mountain bikes, including a look at the growing number of "mid-fat" bikes, a look at retailer inventory of fat bikes and the growing phenomenon of electric fat bikes. We also take a look at new fat- and plus-size model introductions by Scott, Norco, Salsa and Chumba USA, among other brands.
The August 15 issue of BRAIN is now arriving in subscribers' mailboxes. 
Besides the special report on fat bikes, the new issue contains a look at the travel-bike market, reports on big changes at Raleigh, takes a look at Felt Bicycles' decision to move away from model-year bike introductions. 
The issue also contains an article remembering Andrew Wright, the co-founder of distributor BTI, who died in July in a motorcycle accident.
This is in addition to regular departments like LifeCycle, State of Retail, Global Briefs, Mad Dog Unleashed, Trade Watch, Tech Briefs and Through the Grapevine that are only published in the magazine.
Bicycle Retailer & Industry News is published 18 times a year and is available in print or digital format. Visit our subscription page for more information.