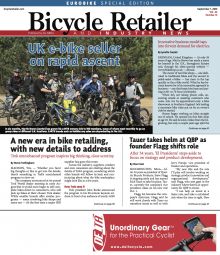 Issue Highlights:
LAGUNA HILLS, Calif. (BRAIN) — Trek's decision to begin online bike sales is covered in depth in the latest issue of Bicycle Retailer & Industry News.
The new issue, dated Sept. 1, is arriving in mailboxes now and is being distributed at this week's Eurobike show in Germany.
The issue contains a look at the details of Trek's omnichannel program, in which consumers can order bikes online and pick up the assembled bikes at their chosen Trek dealer. The issue also takes a look at some of the other news that Trek announced at its Trek World dealer event in Wisconsin earlier this month, including a new mechanic training and certification program, a new dealer bookkeeping service, and factory improvements that are reducing lead times for the company's Project One custom bikes.
Beside the Trek story, the new issue includes interviews with Quality Bicycle Products' Steve Flagg, who recently announced his retirement as president. Flagg, 64, is becoming the company's chairman while longtime executive Rich Tauer takes over as president.
And in another look at big changes in the bike world, BRAIN editor-in-chief Lynette Carpiet looks at a British retailer who has embraced the electric mountain bike movement. In the U.S., e-MTBs are more a rumor than a reality, but in the U.K. Martin Brown leads an e-MTB rider club that has 100 members, many of whom meet monthly to go on group rides.
The issue also reports on the major European bike brand, Cube, which has begun sales in Canada and is eyeing the U.S. market.
This is in addition to regular departments like LifeCycle, State of Retail, Global Briefs, Mad Dog Unleashed, Trade Watch, Tech Briefs and Through the Grapevine that are only published in the magazine.
Bicycle Retailer & Industry News is published 18 times a year and is available in print or digital format. Visit our subscription page for more information.