Issue Highlights:
LAGUNA HILLS, Calif. (BRAIN) — The latest issue of Bicycle Retailer & Industry News features articles about the increased number of motorsports brands entering the bike market, a look at proposed e-bike legislation and the second part of our series on the cycling media — including a look at an alleged "pay-for-play" scandal at a major cycling website. 
The February 1 issue of BRAIN began arriving in most subscribers' mailboxes last week. This issue of BRAIN was mailed along with the February issue of our quarterly multi-sport trade magazine, Triathlon Retailer and Industry News, which includes a listing of the top 50 multi-sport retailers in the country. 
In the new BRAIN, the magazine's managing editor, Toby Hill, took a look at the trend of moto suppliers eying the bike market. "In recent months activity has heated up at a number of moto labels looking to establish a new foothold, expand their product lines, or carve out a larger piece of pie bike," Hill reported.
Hill spoke with executives at several brands that are new to the bike market, including Galfer, Maxima, 100%, and Speedmob. 
Also in this issue, Doug McClellan took a close look at the Bicycle Product Suppliers Association's push to pass electric bike legislation in New York and California, the single biggest initiative in the organization's history. BPSA hopes to help create a consistent body of laws across the country to facilitate the growth of the e-bike market. 
The second part of BRAIN's look at the bike media (part 1 was in the January 1 issue) focuses on the online media scene and includes a chart showing web traffic for the largest 24 advertising-supported bike websites in North America. 

The media overview also includes an article on the social media storm that erupted when a PinkBike.com advertising proposal accidentally landed in the inbox of DirtRag's publisher, Maurice Tierney, instead of at Trek, where it was intended to go. Tierney said the letter is proof that PinkBike ties its editorial coverage directly to ad sales, but PinkBike's publisher and tech editor said the proposal was not what it seemed.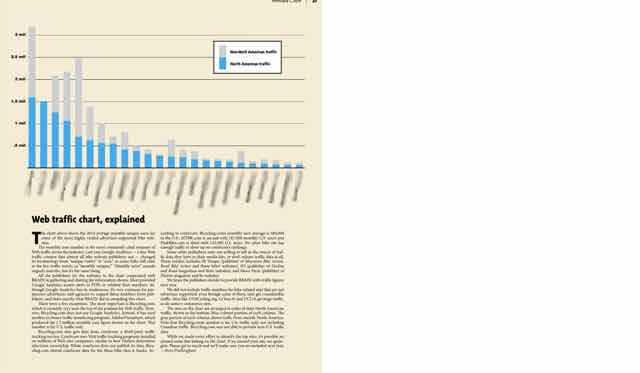 Also in this issue of BRAIN:
Framebuilder Supply targets Portland's bike builders
Hawley takes over US sales, marketing and service for Look
Bike brands plug into the mainstream at CES show
Sidi's distributor makes headway policing overseas online sales
Product trends work in favor of tool maker Prestacycle
Retailer delivers the goods for Providence commuters
TEN's Garrett navigates shifting landscape of lifestyle publishing
The issue also includes BRAIN's regular columns, including State of Retail, Retail Briefs, Tech Briefs, The Grapevine and Mad Dog Unleashed. In a Guest Editorial, PeopleForBikes president Tim Blumenthal explains the importance of the group's recent milestone — reaching 1 million supporters.
Bicycle Retailer & Industry News is delivered 18 times a year and is available in print and digital editions. The magazine is filled with articles and columns that never appeared on BicycleRetailer.com. More information is available on our subscription page.