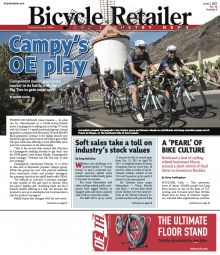 Issue Highlights:
LAGUNA HILLS, Calif. (BRAIN) — The stock market has been on the upswing in the last year, but many publicly traded companies in the bike business have had a tougher time as sluggish sales and excess inventory took a toll.
BRAIN's Doug McClellan takes a look at public companies in the June 1 print issue of BRAIN, hitting subscribers' mailboxes this week.
McClellan reports that companies including Fox Factory, Accell and Garmin have had sales growth in the last year, while Shimano, Merida, Giant and others have slumped. The article also takes a look at executive pay for the public companies.
Also in the new issue, editor in chief Lynette Carpiet reports on Campagnolo's bid to get back into the OE market, with its new 11-speed Centaur group, aimed squarely at Shimabo's Ultegra.
The new issue also has a look at a section of Pearl Street in Boulder, Colorado, which is being compared to San Francisco's legendary Stanyon Street for its density of bike retailing. Within the space of a few blocks there are four bike shops, plus a Rapha clubhouse and several other bike-related businesses. Unlike Stanyon Street, many of these locations are venturing outside traditional bike retail to offer coffee, club memberships and even a full bar.
These highlights are in addition to regular BRAIN departments like State of Retail, Global Briefs, Mad Dog Unleashed, Tech Briefs and Through the Grapevine that are only published in the magazine.
BRAIN is published 18 times a year. Mail and electronic subscriptions are available at bicycleretailer.com/subscribe.